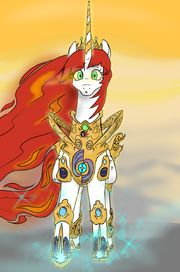 At first, it was just an oddity. Soap coming from the sky, certain lewd objects vanishing from sight, birds with an odd harmony to them and the ability to speak about marriage, all of it seemed to be just strange happenstance, right?
Or, perhaps, someone is more above it all, someone watching, not pulling the strings directly, but watching...
And a certain giant bug wants to beat her up.
Celestia
Luna
Craig.
Antagonists
Edit
Nobody but it's cute she thinks she is.
Community content is available under
CC-BY-SA
unless otherwise noted.